Dendroarchaeological Investigations of the Prehistoric Lakeshore Settlement «Ploča, Mičov Grad», Lake Ohrid, Republic of Macedonia, 2018
Prähistorische Seeufersiedlungen am Ohridsee, Mazedonien: Medienorientierung zur Ausgrabung der Universität Bern und Besuch der Schweizer Botschafterin.
Am 13.6.2018 wurden die nationalen Medien von Mazedonien über das Ausgrabungsprojekt der Universität Bern informiert. Diese finden in Zusammenarbeit mit dem Museum Ohrid und dem Centre for Prehistoric Research (CPR) in Skopje statt. Es sprachen zu den Medien: Dr. Eleonora Petrova, Direktorin, Directorate for Protection of Cultural Heritage im Kulturministerium der Republik Mazedonien, Dr. Goce Naumov (CPR) und Prof. Dr. Albert Hafner (Universität Bern, IAW).
Am 25.6.2018 besuchte die Schweizer Botschafterin Frau Suter Tejada zusammen mit Ms Aneta Damjanovska, National Programme Office der Botschaft in Skopje, die Ausgrabungen der Universität Bern am Ohridsee.
Der folgende link verweist auf die Nachrichtensendung, in der Aufnahme der Medienorientierung zu sehen ist.
tvm.mk/video/category/33-dnevnik/2091-tvm-dnevnik-13-06-2018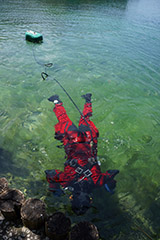 Lake Ohrid (Republic of Macedonia and Albania) is a site with several prehistoric pile-dwelling settlements from the Neolithic, the Bronze Age and the Iron Age. An abundance of artefacts and piles can be found in the shallow water of 3–5 m depth on the lake bottom. The piles are mostly conifers and oaks which have not yet been dendrochronologically examined.
After a small-scale survey on the site in 2017 during the European Scientific Diver (ESD) the team form the University of Bern, the Center for Prehistoric Research (Skopje) and the Museum of Ohrid started a new project to gain more information of the site. The aim of this project is to deliver first dendrochronological data of the Bronze Age and Iron Age site Ploča in the Bay of Bones and further on to provide initial significant insights into its chronology, architecture and dynamics. To achieve this aim, the team collects pile samples using underwater archaeological methods. Documentation is done using multi-image photogrammetry. After being sawn and taken out of the water the year rings of all piles are measured in order to perform dendrochronological individual and mean curves. Radiocarbon dating and wiggle-matching of wood samples from mean curves will yield highly accurate absolute chronological dates. The expected results are a first absolute dating of the site, the first reliable dendrochronological curves for the region and indications of the settlements structure and phases of the site.
Project members:
University of Bern, Institute of Archaeological Sciences, Center for Prehistoric Research, Skopje and Museum of Ohrid
Team:
A. Hafner, G. Naumov, B. Taneski, M. Bolliger, L. Emmenegger, J. Francuz, S. Geiser, M. Hostettler, A. Machkovski, G. Milevski, J. Reich, C. Staeheli, V. Todoroska, T. Wehrle
Funding:
Fondation Johanna Dürmüller-Bol
Gesellschaft für Schweizer Unterwasserarchäologie
Material support and cooperation:
Stadt Zürich, Amt für Städtebau, Unterwasserarchäologie
Archäologischer Dienst Kanton Bern