Nutrition, origin, and social stratification in the Late Iron Age. Stable isotope analysis of Swiss skeletal series.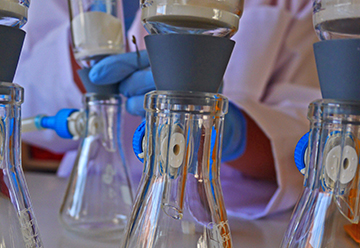 The goal of the project is to examine the nutrition of the Celtic population in Switzerland in the Late Iron Age. The investigation of geographical regions, sex, age categories, time periods and social strata provide us with statements about human mobility, living and environmental conditions. The samples come from 23 archaeological sites throughout Switzerland. Collagen and structural carbonate fractions of the excavated bone will be extracted. Stable isotopes from the light elements carbon, nitrogen, sulphur, hydrogen and oxygen will be measured in a mass-spectrometer.
Investigations of the nutrition include evidence about consumption of plant sources (carbon), animal protein (nitrogen), fresh water and/or salt water fish (sulphur, nitrogen and carbon) and fat (carbon). The different resources can be identified by creating a food web showing the animal species that were the diet of the Celts. The examined individuals can be assigned to different geographical regions by stable oxygen and hydrogen isotope analyses. Natural conditions are usually modified by the individual`s social status: it determines which food appears on whose table. The investigation of human bones from the enigmatic (ritual?) sites of Cornaux and Le Mormont will shed a light both on the social stratigraphy and the origins of the individuals if compared to data from "regular" burial grounds. This project is supported by the Archaeological Services of several Swiss Cantons.
Projektleitung
Dr. Sandra Lösch, Anthropologie, Institut für Rechtsmedizin, Universität Bern
Projektbeteiligte
Dr. Sandra Lösch, Anthropologie, Institut für Rechtsmedizin, Universität Bern
Prof. Dr. Felix Müller, Bernisches Historisches Museum, Bern
Prof. Dr. Albert Hafner, Prähistorische Archäologie, Institut für Archäologische Wissenschaften, Universität Bern
Dipl. biol. Negahnaz Moghaddam, Anthropologie, Institut für Rechtsmedizin, Universität Bern
Projektdaten
Förderinstitution: Schweizerischer Nationalfond (Projekt-Nr. CR13I3_149583)
Förderungsdauer: 01.01.2014 – 31.12.2016
Förderbeitrag: CHF 348'460.-